Why Spray Foam?
ACR Commercial Roofing offers foam roofing services for our clients. We aim to provide services to our clients that we feel are highly beneficial to their roofs success as well as their roofing budgets. There are several main reasons that spray foam roofing should be on your radar: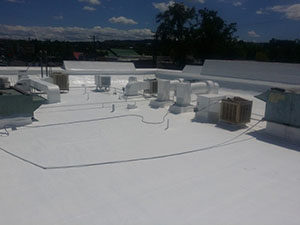 ENERGY STAR ® certified
Heating and cooling costs savings
Seamless, water-tight roofing system for lasting leak protection
With professional maintenance it is able to last for decades
Protection from solar radiation, hurricane-force winds, hail among other hazards
Seamless and water-tight
Renewable roofing system
These are benefits that you will appreciate right away if our team provides a spray foam roofing system to your commercial or industrial building. To learn more about how we can assist you please give us a call. You are able to reach our Amarillo, Texas office at (806) 669-7777. Our staff looks forward to answering your questions about this amazing roofing system.
Cool Roof for a Cool Summer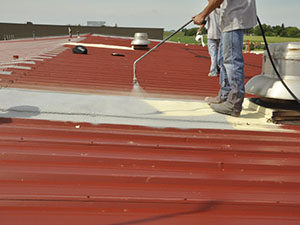 A cool roof is a roofing system that is designed to maintain a lower temperature unlike traditional commercial roofs. Spray foam roofing is a great solution for flat and low-slope commercial roofs alike. As the foam is applied to your existing roof it will expand and cover crevasses and is able to mold around corners and edges creating a seamless barrier protecting your roof.
As Texan's, we aren't afraid of a little heat, but we sure do love our air conditioning. Give your AC unit a break with a spray foam roof. Keeping your roof cool means your air conditioner isn't running nonstop once temperatures begin to soar. To learn more about how spray foam roofing can save you money and protect your Amarillo, Texas roof, call ACR Commercial Roofing today at (806) 669-7777.
Spray Foam Roofing Estimate
If you are interested in learning more about your spray foam roofing options and receiving an estimate, don't hesitate, call today for a FREE, no-obligation estimate. First and foremost, we believe in educating our clients. We will answer your questions to help you make an informed decision for your Amarillo, Texas commercial property. Our technician is happy to provide a roof inspection to determine the best course of action for your specific roof. We believe in hassle-free service so you will never be pushed into making a decision that you are not 100% comfortable with.
To learn why ACR has been leading the commercial roofing industry for over 20 years, call us today at (806) 669-7777. We hope to hear from you soon!