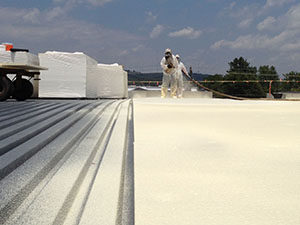 A prime option for revitalizing your roof in a quick, cost-effective way is with high-quality spray foam roof insulation. Amarillo, Texas, business owners can trust the team at ACR Commercial Roofing to add life and efficiency to their existing roof using this exceptional spray polyurethane foam solution.
Spray foam roofing, or SPF is a heavy-duty material used for commercial flat roofs and low-slope roofs, effectively sealing them against moisture and air penetration and resulting in greatly enhanced energy efficiency.
For dependable and top-quality spray foam roofing services and other roofing work, you can count on ACR Commercial Roofing. More than 10,000 customers spanning over 20 years are positive proof that we'll get the job done right! Call us today at (806) 576-4228 to schedule a free professional roofing assessment.
SPF Protection
There are many inherent benefits when you choose spray foam roofing for your commercial or industrial roof—and opting for this cost-effective route can pay for itself in as little as five years in terms of utility and maintenance cost savings.
Here are some of the highlighted benefits of choosing SPF: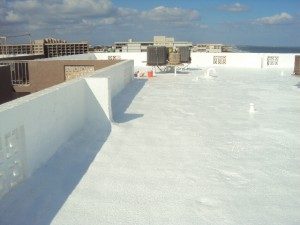 Low maintenance
Budget-friendly
Fast application process (which means minimal disruption to your business!)
Energy efficient
Can be applied to various substrates
Conforms to any roof shape
Long-lasting
Watertight
Seamless
Repairs Are Rare—but We're Here When They're Needed
A robust spray foam roof is an incredibly low-maintenance solution to your roofing problems, and the need for repairs is uncommon. However, blisters can form that could be damaging to your SPF roof. In general, the formation of a blister is not serious, but it's wise to have a professional SPF contractor take a look whenever you notice one.
When a spray foam roof needs to be repaired, the process is called "scarfing" and involves removing damaged portions of the foam and reapplying it in the localized area of damage. Having repairs performed by anyone but an experienced contractor can cause greater damage to your roof instead of fixing the problem, so make sure you only trust your roof to an expert.
Remember: When you need expert roofing services, ACR Commercial Roofing is here for you!
Dependable Guarantees
Not only does ACR Commercial Roofing have a stellar service record spanning more than 20 years, but we have expertise in servicing all types of roofs.
Because we are an endorsed member of the nationwide Choice Roof Contractor Group, we are also able to offer our customers a lifetime service guarantee on work performed. This means you will always have access to the roofing services of a professional contractor when you need them!
Call on a Quality Crew!
So, what are you waiting for? Contact the team you trust today at ACR Commercial Roofing! Call (806) 576-4228 now to schedule a free professional roofing estimate!