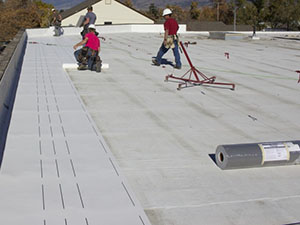 Single-ply roofing is a well-liked genre of roof, but a lot of contractors make beginner mistakes during the process of installation. At ACR Commercial Roofing our team of skilled roofers can install any kind of single-ply roofing with ease. We will offer worry-free workmanship and competitive prices. To hire us for a project call us at (806)-669-7777 if your company is located in Plainview, TX.
Why ACR Commercial Roofing?
The longevity of your roof comes down to a couple of things: the materials used on your roof, the amount of preservation your roof receives, and the company that you hire to install, repair, or restore your roof. Here at ACR Commercial Roofing, our sophisticated workmanship has been proven time and time again. Of course, this might not mean all that much without also using the highest quality roofing products which is why we only use Conklin.
What is Single-Ply Roofing?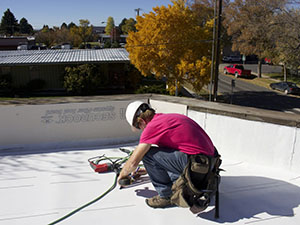 Single-ply roofing can be used on all kinds of commercial and industrial buildings across the US. There are many different kinds of single-ply roofing, including TPO, PVC, and EPDM. Single-ply roofing could be split into two categories: Thermoplastics and Thermosets.
EPDM roofs go in the category of thermoset. EPDM roofs have carbon black membranes to defend your roof from the suns UV rays. Thermoset roof sheets have a wide range in width which can result in it covering a huge roof without many seams.
However, thermoplastic roofs are welded onto your roof and at its seams. When installed correctly, these categories of roofs are very effective at keeping your building waterproof. If your roofs surface is uneven, you don't need to worry. Single-ply roofing is known for being flexible, which helps it suit different kinds of surfaces. There are a couple of thermoplastic roofs to pick from. For example, TPO roofs are great for making your building energy efficient. On the other hand, PVC roofs are well known for having high resistance to chemicals.
Contact Us Today
The team at ACR Commercial Roofing look forward to working on more roofs in Plainview, TX. Whether you are looking for someone for single-ply roofing, repair, or replacements, we are the best business for you. To schedule a time for a free onsite roof evaluation contact us today at (806)-669-7777.