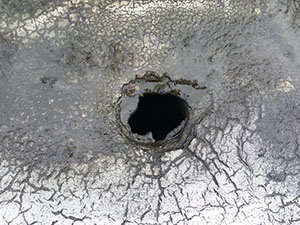 At ACR Commercial Roofing, we believe that a roof inspection is the first and one of the most important steps to keeping your commercial roof in excellent condition. With over 20 years of roofing experience, we provide our customers in the Levelland, TX area with thorough and reliable roof inspections. We also offer no-cost roofing estimates, so once your roof has been inspected, you will know exactly what shape it is in and what it will take to get it performing like new again. Roof inspections are recommended twice annually as well as after any major storm to ensure that any damage is caught and fixed right away. This also helps guarantee that any need services are done on time to keep your roof in pristine condition. To set up a roof inspection with one of our expert roofers, give us a call at (806) 669 – 7777.
More Than Flawless Inspections
Working with us means that no issue on your commercial roof will go unfound, our expert roofers are professionally trained and know what to look for when they inspect every feature of your roof. From leak detection to catching failing flashings, our roofers will catch it all on the first go around to ensure everything is taken care of quickly. With our roofers on your roof, no issue will be left to sit, which could cause further damage to your roof and building.
Reach Out Today!
The fall season is an optimal time to get your roof inspected. After the brutal heat of the Texas summer and before the cold winter ahead, this is the time to make sure your roof is ready to last another season, keeping your building protected and your energy bills down. A proper roof inspection from the team at ACR Commercial Roofing will help you feel good knowing your business can run smoothly all winter long. We offer a complete list of commercial roofing services to our customers in the Levelland, TX area and are ready to get your roof prepped for winter. To set up a roof inspection at a time that works for you, give us a call today at (806) 669 – 7777.