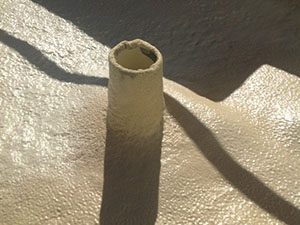 What would you say to a commercial roof system that is lightweight, extremely durable, easy to apply, efficient, low maintenance, and easy to install? If you're like many of our customers, you'll want to know more. ACR Commercial Roofing specializes in spray polyurethane foam roofing – installation, repair, restoration, and replacement.
Spray foam roofing is a great way to quickly and easily seal cracks, insulate, and rejuvenate your existing roof, since it can be applied over any existing roof in good condition. At ACR, we've been installing and maintaining high-quality foam roofs throughout Lubbock, TX, and the surrounding communities for well over 20 years. Call us today at (806) 712-8162 to learn more!
The Best In Foam Roofing
The experts at ACR Commercial Roofing understand that the roofing solution you invest in is only as good as the materials that go into it. That is why we pledge to use the best materials with every foam roof we install. We use premium products manufactured by industry leader Conklin when it comes to our spray foam roofs.
A Conklin foam roof involves combining multiple chemicals in a liquid form and spraying it out through a special gun in even layers to cover your rooftop. The foam rapidly expands up to 20-30 times to create a seamless barrier across your roof. Conklin's closed-cell polyurethane foam meets or exceeds Factory Mutual and Underwriters' Laboratories standards.
Furthermore, studies show that with proper maintenance, Conklin's foam roof system can pay for itself via energy savings in just 7 years. To top it off, our spray foam products come with optional, non-prorated warranties that covers 100% of labor and materials for up to 20 years.
To learn more about how ACR's spray foam roofing systems outperform the competition, contact us today at (806) 712-8162.
Advantages of Spray Foam Roofing
In addition to the above-mentioned benefits of spray foam roofing, here are a few more advantages an SPF roof can bring:
Insulates – Eradicates air movement between outside and inside with an outstanding insulation R-value of 6.5 per inch
Boosts Efficiency – Reduces energy loss and drops utility bills by up to 30%
Reinforces Structure – Adds strength to your building structure; spray foam roofing can hold up to 40 pounds per square inch!
Doesn't Add Weight – Closed cell roofing foam is still the lightest weight option of all commercial roofing systems, and can be applied over existing roofs
Improves Durability – Highly resistant to strong winds and water
Reduces Noise
Saves Money – Foam roofing is less expensive than many traditional membranes and doesn't require the added expense of a roof tear-off
Contact Us Today!
Spray foam roofing is a great option for business owners or building managers looking for a new, low maintenance, energy efficient commercial roofing system. ACR Commercial Roofing offers foam roof installation and related services such as repairs, maintenance, restoration, and more. Call us today at (806) 712-8162 to learn more about how we can turn your old, leaky, inefficient roof into an energy-saving "cool roof" with spray foam.