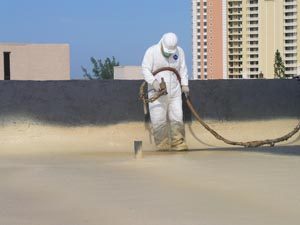 If you want to give your commercial roof a new lease on life, foam roof insulation is a cost-effective, low-maintenance option. For quality foam roof insulation work and other roofing services, customers in and around Lubbock, Texas, look to the team of experts at ACR Commercial Roofing. We are a licensed, bonded and insured roofing company with more than 20 years of expertise and more than 10,000 satisfied customers to our credit!
Call ACR Commercial Roofing today at (806) 669-7777 to schedule a free, no-obligation professional roof evaluation and learn about all the great things we can do for your roof!
The What, Why and How of Spray Foam Roofing
Spray foam roofing, also known as SPF, is a robust material used on flat and low-slope roofs to seal them against air and moisture penetration. Installing spray foam roofing significantly enhances the energy efficiency of an industrial or commercial roof, which means significant cost savings for you, the building owner. In fact, SPF roofing has been known to pay for itself in a little as seven years in terms of the money that building owners can save on utility costs and maintenance.
Here are just a few of the reasons SPF insulation is not just a good choice but a great one: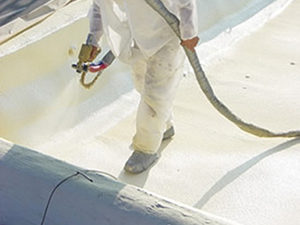 Extremely low-maintenance
Cost-effective
Energy efficient
Quick application process with little disruption to your business operations
Applicable to various substrates
Conforms to all roof shapes
Highly durable
Forms a seamless, watertight membrane
Indefinite lifespan potential with proper maintenance
The process of applying SPF roofing is a simple one. The ACR Commercial Roofing crew will first clean your existing roof thoroughly to remove any debris, oils and dirt. Once the roof is clean and dry, we will start the process of applying the SPF product.
Because there is no labor-intensive roof tear-off needed when installing spray foam roofing, clients save significant money and time compared to a full roof replacement. We know time is money, and installing SPF roofing will involve very minimal interruption to your business.
Decades of Expertise at Your Service!
If you're interested in having spray foam roofing work performed at your commercial or industrial building, call the crew at ACR Commercial Roofing today, (806) 669-7777. We will detail the ins and outs of the SPF installation process and go over just how this type of roofing solution can fit into your budget and benefit your building.
You can count on ACR Commercial Roofing to perform stellar work and to provide topnotch customer service. We are an endorsed member of Choice Roof Contractor Group, which is a trusted nationwide association of professional roofing contractors. Belonging to this prestigious association is certainly a feather in our cap—but what's more, it offers various benefits to our clients, including a lifetime service guarantee.
We've been in business for more than 20 years and have serviced over 10,000 clients in that time, so you can trust us when we say we have no plans to disappear! However, if the unforeseen ever happens and we should close our doors someday, our customers will not be abandoned. If we are not able to service your guaranteed roof, another CRCG member will!
Foam Roof Insulation Estimate
If you're looking for foam roof insulation in or near Lubbock, Texas, ACR Professional Roofing is at your service! Give us a call today at (806) 669-7777 to schedule a free, no-obligation professional roof assessment. One of our expert technicians will visit your location, thoroughly inspect your roof and then provide you with a detailed assessment. If we identify any problems or trouble spots, we will inform you of the best and most cost-effective options available to you. That's the ACR way!