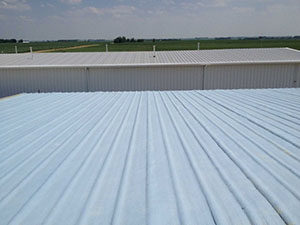 The most common question we hear from our customers is – What is an SPF (spray polyurethane foam) roof? It is a form of plastic that begins as a liquid while sprayed onto your roof and increases its volume as it solidifies. It is a very cost effective roofing solution that is highly durable and long-lasting. A spray foam roof will provide insulation and waterproof your roof.
Spray Foam Advantages
Spray foam roofing is steadily becoming the number one roofing choice for commercial and industrial buildings. Check out this list of major spray foam roofing benefits: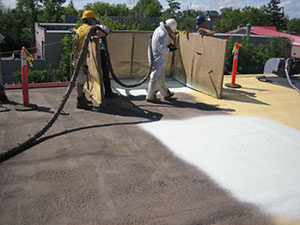 Lasts indefinitely when properly maintained
Creates a level roofing surface to prevent standing water
Produces 30% energy savings compared to alternative roofing systems
Minimal maintenance to meet warranty standards
SPF is applied directly to your existing roof so no extensive tear off procedures needed
Applied quickly to limit disruption to your facility
Seamless, water-tight barrier
If needed, repairs are a simple process
Extreme weather protection
Completely free from chlorofluorocarbons (CFCs)
Very low, compared to other roofing options, in the emission of Volatile Organic Compounds (VOCs)
As energy costs rise and the need for roofing systems that do not add to landfills increase Lubbock, Texas building managers are looking or the most cost effective, sustainable roofing system. A spray foam roof is just what you are looking for to save money today, tomorrow and far into the future. To learn more about the many ways ACR Commercial Roofing can help you and your property call us at (806) 669-7777.
Spray Foam Roof Estimate
The first step to any estimate involves a thorough roof inspection. ACR Commercial Roofing proudly provides hassle-free and no-obligation roof inspections for Lubbock, Texas and surrounding communities. Our service technician will inspect your roof forwards and backwards to ensure everything is functioning as it should.
For those of you interested in a spray foam roof for your Lubbock, Texas commercial property, call ACR Commercial Roofing today. You can reach our office at (806) 669-7777. We will discuss your roofs ability to be treated with spray foam and the many ways you will directly benefit from this new roofing system. Our goal is to provide you with a worry-free roof that will provide years upon years of protection for your property.
What are you waiting for? Call us today so we can save you some money – (806) 669-7777.