ACR Commercial Roofing is a reputable commercial roofing company that helps people save a lot of time and money on their roofs. As commercial roofing experts, our roofing specialists have a lot of experience working with single-ply roofing. We are always prepared to take on new projects in Canyon, TX. Get a free roof inspection by giving us a call today at (855) 472-4932.
About Single-Ply Roofing
Single-ply roofing is a general category that many common types of commercial roofs fall into. This category of commercial roof is known for being affordable, durable, and cost-effective. Here at ACR Commercial Roofing, we repair, restore, and install all kinds of single-ply roofing systems. The three most common types are TPO, PVC, and EPDM.
Restoring Single-Ply Roofing Systems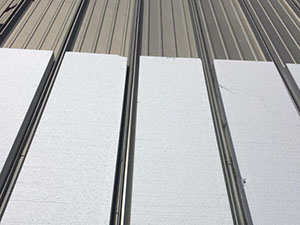 The roofing specialists at ACR Commercial Roofing are accustomed to restoring single-ply roofing systems with roof coatings. A roof coating is significantly cheaper than paying for a roof replacement. This thin protective layer keeps the surface of a roof in tact and will prevent a roof from leaking for several additional years!
Lower Energy Consumption
With the right roofing company, you'll be able to save big on energy costs with "green" roofing solutions. A roof coating, for example, will increase the reflectivity of a roof's surface which helps lower a building's energy consumption. Many kinds of single-ply roofing are excellent at improving the energy efficiency of a commercial building. The best type of single-ply roofing in terms of lowering energy costs is TPO.
Other Services
A single-ply roofing system may require many different types of roofing services over the course of its lifespan. ACR Commercial Roofing is the only company you'll need, from initial roof installation to the inspections and maintenance that follow. Whenever your roof needs repairing, restoring, or replacing, we'll be by shortly after you call.
Call Us Today!
Looking for single-ply roofing experts in Canyon, TX? ACR Commercial Roofing offers a range of cost-effective commercial roofing services. Find out more about us by giving us a call today at (855) 472-4932. We'll be over soon after to provide a free roof inspection.