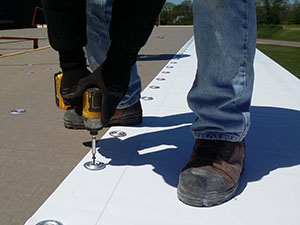 ACR Commercial Roofing specializes in the installation, repair, maintenance, and restoration of single-ply roof systems, including TPO, PVC, and EPDM. We have more than 20 years of experience serving residents of Brownfield, Texas, and the surrounding areas.
If you are looking for precise, efficient services for your single-ply roof, look no further than ACR Commercial Roofing. We install and service all types of single-ply roofs, upholding the highest standards of quality workmanship and customer service in the industry. Call us at 806-669-7777 today to learn more.
Single-Ply Roofing 101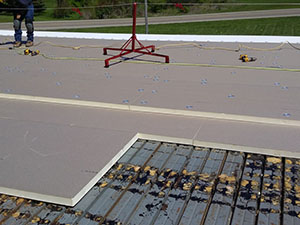 Single-ply membranes are generally divided into two categories:
Thermoplastic – Softened by heating and hardened by cooling, as many times as desired.
Thermoset – Irreversibly solidify after heating.
As the name suggests, single-ply membranes typically comprise a single sheet of roofing material, although they may contain reinforcing layers of polyester, felt, etc. The three most common single-ply membranes are:
Ethylene Propylene Diene Monomer (EPDM) – Rubber-based membrane that is usually black, unless a reflective coating has been added.
Thermoplastic Olefin (TPO) – White, reflective membrane
Polyvinyl Chloride (PVC) – White membrane with superior resistance to many chemicals, including grease, fat, petroleum, etc.
Single-ply membranes can be installed in many ways and usually use a combination of the following: fully adhered, mechanically attached, or held down with ballast.
ACR works with industry-leading manufacturers to bring you the best in single-ply products:
Genflex Roofing Systems
GenFlex Roofing Systems has been a leading, full-line supplier of high quality single-ply roofing products for the commercial roofing market for over thirty years, specializing in EPDM and TPO systems.
GenFlex's EPDM single-ply membranes are tough, standing up to tears, impacts, punctures and normal roof traffic. They also offer excellent resistance to ozone and ultraviolet light exposure, all while maintaining elasticity and flexibility. There are 4 to choose from: EPDM, a fire retardant EPDM, a polyester-reinforced EPDM, and a white-on-black EPDM.
GenFlex's TPO systems, on the other hand, offer the durability it takes to withstand the most punishing elements, while providing outstanding heat-reflectivity and energy efficiency for high performance that's strikingly affordable.
GAF Roofing Systems
GAF is North America's largest commercial and residential roofing manufacturer. Their single-ply roofing membranes provide great flexibility and UV resistance, can be installed in one layer using fasteners or adhesives, and come in a variety of materials.
GAF's EverGuard® TPO combines the weather resistance of EPDM with the reflectivity and seam strength of PVC. EverGuard Extreme® Advanced Protection® TPO offers exceptional performance in high heat and sun exposure. EverGuard® PVC offers the advantages of heat-welded seams and high reflectivity, plus superior resistance to chemicals, oil, and grease.
Call ACR Today!
Does your business or building have a single-ply roof that needs to be repaired or replaced? ACR Commercial Roofing's expert technicians are ready to answer all your questions. Call us today to get started! 806-669-7777