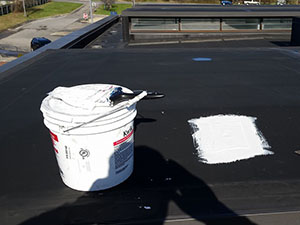 One of the many questions that we receive at ACR Commercial Roofing is "Should I replace my commercial roof, or can I just repair it?" Truly, there is no simple answer. There are many factors that contribute to whether your roof can be improved by commercial roof repairs, or if you need more extensive help like a roof coating or a total roof replacement. Since each roof is unique, we will never be able to give you an answer without visually inspecting your roof. IF you'd like our team to lend our professional expertise for your Levelland, TX property, please give us a call at 806-712-8162.
Signs of Roof Damage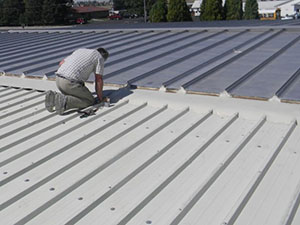 The most frequent time we receive calls from commercial and industrial business owners is when they are experiencing a problem. This is the first sign of trouble to the untrained eye; however, the issue could have been causing more damage beneath the surface. Here are the tell-tale signs that your roof might need repairs:
Stains coming through ceiling/walls
Signs or odor of mold
Water Puddles
These problems can be caused from many different reasons, including:
Cracks and punctures
Improper drainage system
Damaged flashing
Damaged membrane
Weathered and aged roof
In order to determine the best course of action for your roofing system, it is important that we consider the following:
Age of Roof – Nothing can last forever, and that rings true with roofing membranes. Once your roof is nearing its expected lifespan, repairs can only do so much before another one arises. A roof coating or total roof replacement might be a better option.
History of Damage or Leaks – How often your roof needs repairs is a good indication on whether or not it is a candidate for more repairs. If this is the first time your roof has had problems, a repair is a great option. Unfortunately, if your roof is regularly having water infiltration or other problems, a repair might not be ideal.
Call Today for an Appointment
The best thing you can do to determine if your commercial roof is in need of repair is to call our professional team at ACR Commercial Roofing. We'd be happy to visit your Levelland, TX facility and give you our professional opinion. To schedule your appointment, please call 806-712-8162.