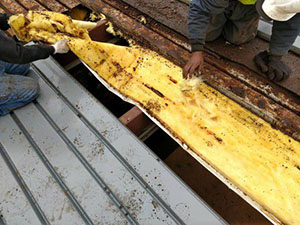 Storm or flood damage can be devastating. When your commercial building's roof springs a leak, you need repairs immediately, before any more damage is done. You need a professional with emergency leak repair experience. You need ACR Commercial Roofing.
If you're located in or around Lubbock, TX, ACR Commercial Roofing has the expertise, experience, and resources to handle your emergency roof leak, no matter the size or difficulty. We can respond immediately to your emergency, as long as conditions are safe – call today: (806) 712-8162.
Commercial Building Leak Repair Services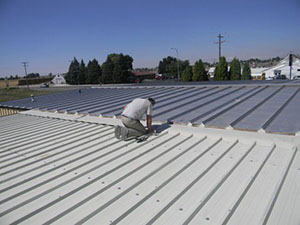 As a full-service commercial roofing contractor, ACR Commercial Roofing has all your bases covered. When it comes to your emergency roof leak repair, you can rest easy knowing we will take care of it effectively and efficiently. And, if you need more than a simple repair, we also provide roof restoration, replacement, and much more!
24/7 emergency repair services, 365 days a week
Leak detection and repair
Friendly, courteous, honest professional contractors, trained in leak repair of all types of commercial roofing
Free, no-obligation, accurate roof repair estimates
Warranties available
Licensed, insured commercial roof contractor
Timely performance of high-quality commercial roof repairs that meet manufacturer and industry standards
Other services available: roof restoration, roof replacement, roof maintenance programs
Fast, Effective Emergency Roof Repair In Texas
While many roofing emergencies can be avoided with simple, regular maintenance, others are out of your control. Some of the more common emergency roofing situations we respond to include:
Falling tree limbs
Improper roofing installation
Extreme wind conditions that tear up roofing material
Ice dams in winter
Failing or rusted flashing
If your building is experiencing a leak, remember to call the professionals. Don't attempt to survey the roof yourself. Move anything in the building that may be damaged by water, and catch what you can in buckets, if possible.
As the South Plains area's most experienced roofing contractor, ACR can handle any emergency roof repair need you may have. If your building is leaking, call us right away at (806) 712-8162 for fast, effective repairs.
Get Help Fast!
When your roof is leaking, the faster you can seal it off or fix it, the better. Even small amounts of moisture can do a lot of damage, ruining insulation, soaking carpet, encouraging wood rot, and promoting the growth of toxic mold and mildew. Whether you need a temporary patch or a complete roof replacement, the experts at ACR Commercial Roofing are standing by to take care of it. Call us today at (806) 712-8162.