Residential Roofing Contractors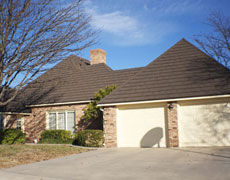 Call us for residential roofing service needs in Texas, Oklahoma, Colorado and New Mexico. When you need roof storm damage restoration, we'll be there. If you're in need of a superior residential roofing installation, we're ready to help. Our company has 20+ years of fieldwork experience and professional knowledge.
Our roofers are well-qualified to install, fix, or repair any residential roofing type. We offer efficient services for all types of roofing systems, including shingle, wood shake, tile, and metal. ACR Commercial Roofing has decades of experience in roofing, exterior renovation, and insurance restoration. Call us today to arrange for a residential roofing estimate! We look forward to serving you.
---
Commercial Roofing Contractors
Your commercial roof shields your facility, tenants, and colleagues from the outdoors. A durable, topside barrier will protect them and strengthen your facility's structure. Our high-performance, energy-efficient roofing will also help keep your energy costs low. Reduce your roof's aging from UV-ray degradation, and make your building more energy-efficient.
Your roof could pay for itself in less than 7 years with energy cost savings! We offer complete commercial roofing services for all roof types: asphalt, built-up, modified bitumen, TPO, PVC, EPDM, spray foam roofing, and any liquid-applied roof. When you need installation, repair, leak detection, or replacement, give us a call. We'll evaluate your commercial roofing needs and then fix them with the best products available!